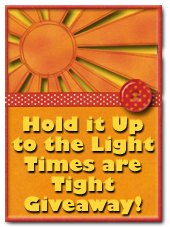 This Lent, I am striving to be more
intentional
.  I want to be a better wife, mother, disciple, and friend.  I feel God calls us to put our faith into action, and I have been looking for a way to do that. 
We are living in tough times (unless you've been living under a rock, you know just how hard these times really are)!  In my quiet time, I have asked God "why?" more times than I can count.  I keep asking Him to guide me in how I should respond to the needs of so many dear friends who are struggling in this economic downturn.  I can pray for them, and believe me I am, but I want to do more.  I
am
called
to do more. 
Some of my friends have started small businesses that are threatening to go bust.  They've taken up a craft (or brushed up on an old trade) and are selling their creations on eBay and ETSY.  They are working hard to sell books and clothes and hairbows and paintings and scrap-books and burp-cloths....whatever it takes to make ends meet.  Some of them have lost their jobs or are worried about losing their homes.  We are living in very scary times, but through faith in our wonderful God....anything is possible!
After much prayer, I have decided to start a Giveaway Carnival where my friends can advertise, network, and get personal about their business, their story, and their faith.  Oh, and of course....

It's a win-win-win-Win situation, friends!
(you, them, me...God)
Do
you
 (or a friend) have a small business you want to advertise (for
free
)??  Please send an email my way (megan@holdituptothelight.com)!  There
are
a few stipulations, but my ulitimate goal is to have a giveaway once a month or so.  I can't wait to see what God is going to do.  We should be up and at it mid-March! 
Oh, and one more thing....  
Can you help me get the word out???
For now, the best thing you can do is
grab my button
over there and post it on your blog.  It will link your friends back to my story, and get them involved.  Who knows, maybe one of
your
readers will become one of
my
featured posters!!!  It's like the ultimate in "Paying it Forward"!!!
Thanks so much friends....
I am so excited to have you along for this ride!!!
7Each man should give what he has decided in his heart to give, not reluctantly or under compulsion, for God loves a cheerful giver. 8And God is able to make all grace abound to you, so that in all things at all times, having all that you need, you will abound in every good work.